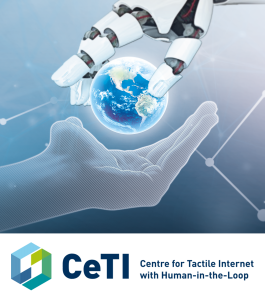 The "Center for Tactile Internet with Human-In-the-Loop" at TU Dresden aims to take collaboration between humans and machines to a new level.
In the future, humans should be able to interact in real time with networked automated systems in the real or virtual world. To achieve this goal, scientists from TU Dresden in the fields of electrical and communications engineering, computer science, psychology, neuroscience and medicine are working together with researchers from TU Munich, the German Aerospace Center and the Fraunhofer-Gesellschaft as well as international scientific institutions in the Cluster of Excellence CeTI. Interdisciplinarily, they explore key areas of human control in human-machine cooperation, software and hardware design, sensor and actuator technologies, and communication networks.
The research is the basis for novel applications in medicine, industry (Industry 4.0, Co-working) and the 'Internet of Skills' (education, rehabilitation).
CeTI creates an international, open and flexible environment to train the next generation of outstanding researchers and foster their careers. By fostering technology transfer, CeTI aims to accompany fundamental technological change while incorporating the accompanying societal issues into developments.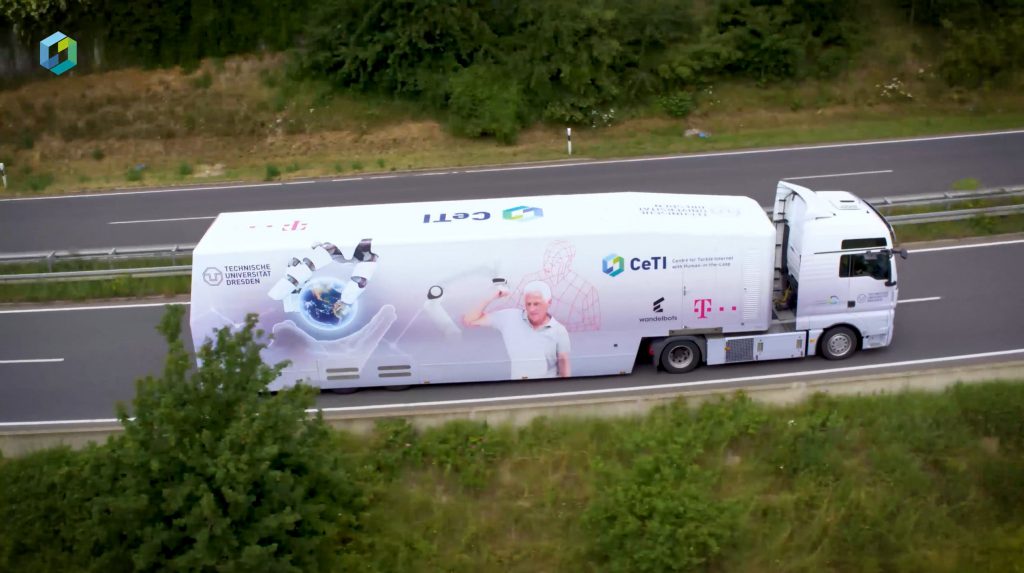 More information about the project can be found on the official website.
Related Publications
@inproceedings{pmc-vis-2023,
author = {Max Korn and Juli\'{a}n M\'{e}ndez and Sascha Kl\"{u}ppelholz and Ricardo Langner and Christel Baier and Raimund Dachselt},
title = {PMC-VIS: An Interactive Visualization Tool for Probabilistic Model Checking},
booktitle = {Proceedings of the 21st International Conference on Software Engineering and Formal Methods},
series = {Lecture Notes in Computer Science},
year = {2023},
month = {11},
location = {Eindhoven Netherlands},
doi = {10.1007/978-3-031-47115-5_20},
publisher = {Springer}
}

List of additional material

@article{MAKLBD-CGF-2023,
author = {Juli\'{a}n M\'{e}ndez and Christian Alrabbaa and Patrick Koopmann and Ricardo Langner and Franz Baader and Raimund Dachselt},
title = {Evonne: A Visual Tool for Explaining Reasoning with OWL Ontologies and Supporting Interactive Debugging},
journal = {Computer Graphics Forum},
year = {2023},
month = {3},
location = {Leipzig, Germany},
doi = {10.1111/cgf.14730},
publisher = {John Wiley \& Sons, Ltd}
}

List of additional material

@inproceedings{luo2023pearl,
author = {Weizhou Luo and Zhongyuan Yu and Rufat Rzayev and Marc Satkowski and Stefan Gumhold and Matthew McGinity and Raimund Dachselt},
title = {PEARL: Physical Environment based Augmented Reality Lenses for In-Situ Human Movement Analysis},
booktitle = {Proceedings of the 2023 CHI Conference on Human Factors in Computing Systems},
series = {CHI '23},
number = {381},
year = {2023},
month = {04},
isbn = {9781450394215},
location = {Hamburg, Germany},
numpages = {15},
doi = {10.1145/3544548.3580715},
url = {https://doi.org/10.1145/3544548.3580715},
publisher = {Association for Computing Machinery},
address = {New York, NY, USA},
keywords = {Immersive Analytics, physical referents, augmented/mixed reality, affordance, In-situ visualization, movement data analysis}
}

List of additional material

@inproceedings{ellenberg2023spatiality,
author = {Mats Ole Ellenberg and Marc Satkowski and Weizhou Luo and Raimund Dachselt},
title = {Spatiality and Semantics - Towards Understanding Content Placement in Mixed Reality},
booktitle = {Extended Abstracts of the 2023 CHI Conference on Human Factors in Computing Systems},
series = {CHI EA'23},
year = {2023},
month = {04},
location = {Hamburg, Germany},
doi = {10.1145/3544549.3585853},
publisher = {ACM},
address = {New York, NY, USA}
}

List of additional material

@inproceedings{krug2023point,
author = {Katja Krug and Marc Satkowski and Reuben Docea and Tzu-Yu Ku and Raimund Dachselt},
title = {Point Cloud Alignment through Mid-Air Gestures on a Stereoscopic Display},
booktitle = {Extended Abstracts of the 2023 CHI Conference on Human Factors in Computing Systems},
series = {CHI EA'23},
year = {2023},
month = {04},
location = {Hamburg, Germany},
doi = {10.1145/3544549.3585862},
publisher = {ACM},
address = {New York, NY, USA}
}

List of additional material

@inproceedings{fixme,
author = {Wolfgang B\"{u}schel and Katja Krug and Konstantin Klamka and Raimund Dachselt},
title = {Demonstrating CleAR Sight: Transparent Interaction Panels for Augmented Reality},
booktitle = {Extended Abstracts of the 2023 CHI Conference on Human Factors in Computing Systems},
year = {2023},
month = {2},
isbn = {978-1-4503-9422-2/23/04},
location = {Hamburg, Germany},
pages = {1--5},
numpages = {5},
doi = {10.1145/3544549.3583891},
publisher = {ACM}
}

@inproceedings{fixme,
author = {Katja Krug and Wolfgang B\"{u}schel and Konstantin Klamka and Raimund Dachselt},
title = {CleAR Sight: Exploring the Potential of Interacting with Transparent Tablets in Augmented Reality},
booktitle = {Proceedings of the 21st IEEE International Symposium on Mixed and Augmented Reality},
series = {ISMAR '22},
year = {2022},
month = {10},
isbn = {978-1-6654-5325-7/22},
location = {Singapore},
pages = {196--205},
doi = {10.1109/ISMAR55827.2022.00034},
publisher = {IEEE}
}

List of additional material

@inproceedings{satkowski2022above,
author = {Marc Satkowski and Rufat Rzayev and Eva Goebel and Raimund Dachselt},
title = {ABOVE \& BELOW: Investigating Ceiling and Floor for Augmented Reality Content Placement},
booktitle = {Proceedings of the 21st IEEE International Symposium on Mixed and Augmented Reality},
series = {ISMAR '22},
year = {2022},
month = {10},
location = {Singapore},
doi = {10.1109/ISMAR55827.2022.00068},
publisher = {IEEE}
}

@inproceedings{russig22,
author = {Benjamin Russig and David Gro\ss and Raimund Dachselt and Stefan Gumhold},
title = {On-Tube Attribute Visualization for Multivariate Trajectory Data},
booktitle = {IEEE Transactions on Visualization and Computer Graphics},
year = {2022},
month = {10},
location = {Oklohoma City, USA (Hybrid)},
doi = {10.1109/TVCG.2022.3209400},
publisher = {IEEE}
}

List of additional material

@inproceedings{satkowski2022who,
author = {Marc Satkowski and Franziska Kessler and Susanne Narciss and Raimund Dachselt},
title = {Who benefits from Visualization Adaptations? Towards a better Understanding of the Influence of Visualization Literacy},
booktitle = {IEEE Transactions on Visualization and Computer Graphics},
year = {2022},
month = {10},
location = {Oklahoma City, USA (Hybrid)},
doi = {10.1109/VIS54862.2022.00027},
publisher = {IEEE}
}

List of additional material

@article{he22,
author = {Tingying He and Petra Isenberg and Raimund Dachselt and Tobias Isenberg},
title = {BeauVis: A Validated Scale for Measuring the Aesthetic Pleasure of Visual Representations},
journal = {IEEE Transactions on Visualization and Computer Graphics},
volume = {29},
number = {1},
year = {2023},
month = {1},
location = {Oklohoma City, USA (Hybrid)},
pages = {363--373},
numpages = {11},
doi = {10.1109/TVCG.2022.3209390},
publisher = {IEEE}
}

@inproceedings{Dachselt22:Nexas,
author = {Raimund Dachselt and Sarah Gaggl and Markus Kr\"{o}tzsch and Juli\'{a}n M\'{e}ndez and Dominik Rusovac and Mei Yang},
title = {NEXAS: A Visual Tool for Navigating and Exploring Argumentation Solution Spaces},
booktitle = {Proceedings of the 9th International Conference on Computational Models of Argument},
year = {2022},
month = {9},
location = {Cardiff, Wales},
doi = {10.3233/FAIA220146}
}

List of additional material

@inproceedings{ABBDKM-IJCAR22,
author = {Christian Alrabbaa and Franz Baader and Stefan Borgwardt and Raimund Dachselt and Patrick Koopmann and Juli\'{a}n M\'{e}ndez},
title = {Evonne: Interactive Proof Visualization for Description Logics (System Description)},
booktitle = {Automated Reasoning - 11th International Joint Conference, IJCAR 2022},
series = {Lecture Notes in Computer Science},
year = {2022},
month = {8},
location = {Haifa, Israel},
doi = {10.1007/978-3-031-10769-6_16},
publisher = {Springer}
}

List of additional material

@inproceedings{coenen2022hyperproperty,
author = {Norine Coenen and Raimund Dachselt and Bernd Finkbeiner and Hadar Frenkel and Christopher Hahn and Tom Horak and Niklas Metzger and Julian Siber},
title = {Explaining Hyperproperty Violations},
booktitle = {34th International Conference on Computer Aided Verification},
series = {CAV 22},
year = {2022},
month = {8},
location = {Haifa, Israel},
doi = {10.1007/978-3-031-13185-1_20}
}

List of additional material

@inproceedings{10.2312:envirvis.20221053,
author = {Marzan Tasnim Oyshi and Verena Maleska and Jochen Schanze and Franziskus Bormann and Raimund Dachselt and Stefan Gumhold},
editor = {Soumya Dutta and Kathrin Feige and Karsten Rink and Dirk Zeckzer},
title = {FloodVis: Visualization of Climate Ensemble Flood Projections in Virtual Reality},
booktitle = {Workshop on Visualisation in Environmental Sciences (EnvirVis)},
year = {2022},
month = {6},
isbn = {978-3-03868-180-9},
numpages = {9},
doi = {10.2312/envirvis.20221053},
publisher = {The Eurographics Association}
}

List of additional material

@article{pester-2022-understand-brain-net-data,
author = {Britta Pester and Benjamin Russig and Oliver Winke and Carolin Ligges and Raimund Dachselt and Stefan Gumhold},
title = {Understanding multi-modal brain network data: An immersive 3D visualization approach},
journal = {Computers \& Graphics},
volume = {106},
year = {2022},
month = {6},
pages = {88--97},
doi = {10.1016/j.cag.2022.05.024},
publisher = {Elsevier Ltd.},
keywords = {Origin–destination visualization, EEG brain connectivity, Immersive virtual reality, Partial directed coherence}
}

List of additional material

@inproceedings{luo2022arsensemaking,
author = {Weizhou Luo and Anke Lehmann and Hjalmar Widengren and Raimund Dachselt},
title = {Where Should We Put It? Layout and Placement Strategies of Documents in Augmented Reality for Collaborative Sensemaking},
booktitle = {Proceedings of the 2022 CHI Conference on Human Factors in Computing Systems},
series = {CHI '22},
year = {2022},
month = {4},
location = {New Orleans, LA, USA},
numpages = {16},
doi = {10.1145/3491102.3501946},
publisher = {ACM},
address = {New York, NY, USA},
keywords = {spatiality, spatial layout, content organization, sensemaking, affordance, qualitative user study, Augmented Reality, Mixed Reality, collaborative sensemaking}
}

List of additional material

@inproceedings{Engert2022,
author = {Severin Engert and Konstantin Klamka and Andreas Peetz and Raimund Dachselt},
title = {STRAIDE: A Research Platform for Shape-Changing Spatial Displays based on Actuated Strings},
booktitle = {Proceedings of the 2022 CHI Conference on Human Factors in Computing Systems},
series = {CHI '22},
year = {2022},
month = {4},
isbn = {978-1-4503-9157-3/22/04},
location = {New Orleans, LA, USA},
numpages = {16},
doi = {10.1145/3491102.3517462},
publisher = {ACM},
address = {New York, NY, USA},
keywords = {Prototyping Platform, Spatial Display, Shape-Changing Interface, Tangible Interaction, Casual Visualization, Data Physicalization}
}

List of additional material

@inproceedings{Reipschlaeger2022,
author = {Patrick Reipschl\"{a}ger and Frederik Brudy and Raimund Dachselt and Justin Matejka and George Fitzmaurice and Fraser Anderson},
title = {AvatAR: An Immersive Analysis Environment for Human Motion Data Combining Interactive 3D Avatars and Trajectories},
booktitle = {Proceedings of the 2022 CHI Conference on Human Factors in Computing Systems},
series = {CHI '22},
year = {2022},
month = {4},
isbn = {978-1-4503-9157-3/22/04},
location = {New Orleans, LA, USA},
numpages = {15},
doi = {10.1145/3491102.3517676},
publisher = {ACM},
address = {New York, NY, USA},
keywords = {Visualisation, augmented/mixed reality, human motion data, analysing space utilization, motion analysis, Immersive Analytics}
}

List of additional material

@article{fixme,
author = {Andreas Peetz and Konstantin Klamka and Raimund Dachselt},
title = {Tailored but versatile, simple but powerful: Challenges and Insights of Wearable Toolkit Design},
booktitle = {CHI 2022 Workshop on Toolkits \& Wearables - Developing Toolkits for Exploring Wearable Designs},
year = {2022},
month = {04},
location = {New Orleans, LA, USA},
keywords = {wearable toolkits, prototyping, e-textile, modular systems}
}

List of additional material

@inbook{vermeulen2021,
author = {Jo Vermeulen and Christopher Collins and Raimund Dachselt and Pourang Irani and Alark Joshi},
editor = {Bongshin Lee and Raimund Dachselt and Petra Isenberg and Eun Kyoung Choe},
title = {Reflections on Ubiquitous Visualization},
booktitle = {Mobile Data Visualization},
year = {2021},
pages = {262--316},
doi = {10.1201/9781003090823-9},
publisher = {Chapman and Hall/CRC}
}

List of additional material

@inbook{epstein2021,
author = {Daniel A. Epstein and Tanja Blaschek and Sheelagh Carpendale and Raimund Dachselt and Jo Vermeulen},
editor = {Bongshin Lee and Raimund Dachselt and Petra Isenberg and Eun Kyoung Choe},
title = {Challenges in Everyday Use of Mobile Visualizations},
booktitle = {Mobile Data Visualization},
year = {2021},
pages = {209--240},
doi = {10.1201/9781003090823-7},
publisher = {Chapman and Hall/CRC}
}

List of additional material

@inbook{blaschek2021,
author = {Tanja Blaschek and Frank Bentley and Eun Kyoung Choe and Tom Horak and Petra Isenberg},
editor = {Bongshin Lee and Raimund Dachselt and Petra Isenberg and Eun Kyoung Choe},
title = {Characterizing Glanceable Visualizations: From Perception to Behavior Change},
booktitle = {Mobile Data Visualization},
year = {2021},
pages = {151--176},
doi = {10.1201/9781003090823-5},
publisher = {Chapman and Hall/CRC}
}

List of additional material

@inbook{horak2021,
author = {Tom Horak and Wolfgang Aigner and Matthew Brehmer and Alark Joshi and Christian Tominski},
editor = {Bongshin Lee and Raimund Dachselt and Petra Isenberg and Eun Kyoung Choe},
title = {Responsive Visualization Design for Mobile Devices},
booktitle = {Mobile Data Visualization},
year = {2021},
pages = {33--66},
doi = {10.1201/9781003090823-2},
publisher = {Chapman and Hall/CRC}
}

List of additional material

@inbook{langner2021,
author = {Ricardo Langner and Lonni Besançon and Christopher Collins and Tim Dwyer and Petra Isenberg and Tobias Isenberg and Bongshin Lee and Charles Perin and Christian Tominski},
editor = {Bongshin Lee and Raimund Dachselt and Petra Isenberg and Eun Kyoung Choe},
title = {An Introduction to Mobile Data Visualization},
booktitle = {Mobile Data Visualization},
year = {2021},
pages = {1--32},
doi = {10.1201/9781003090823-1},
publisher = {Chapman and Hall/CRC}
}

List of additional material

Mobile Data Visualization

Lee, B.; Dachselt, R.; Isenberg, P.; Choe, E. (Eds.)

@book{MobileDataVisualization2021,
editor = {Bongshin Lee and Raimund Dachselt and Petra Isenberg and Eun Kyoung Choe},
title = {Mobile Data Visualization},
year = {2021},
month = {12},
isbn = {9780367534714},
numpages = {346},
doi = {10.1201/9781003090823 },
publisher = {Chapman and Hall/CRC}
}

List of additional material

@article{Horak2021VisualAnalysisHyperproperties,
author = {Tom Horak and Norine Coenen and Niklas Metzger and Christopher Hahn and Tamara Flemisch and Juli\'{a}n M\'{e}ndez and Dennis Dimov and Bernd Finkbeiner and Raimund Dachselt},
title = {Visual Analysis of Hyperproperties for Understanding Model Checking Results},
journal = {IEEE Transactions on Visualization and Computer Graphics},
year = {2022},
month = {10},
location = {Virtual Event},
doi = {10.1109/TVCG.2021.3114866},
publisher = {IEEE}
}

List of additional material

@inproceedings{satkowski2021visualization,
author = {Marc Satkowski and Weizhou Luo and Raimund Dachselt},
title = {A Visualization Authoring Model for Post-WIMP Interfaces},
booktitle = {Poster Program of the 2021 IEEE VIS Conference},
year = {2021},
month = {10},
location = {Virtual Event},
numpages = {2},
doi = {10.48550/arXiv.2110.14312},
url = {https://arxiv.org/abs/2110.14312}
}

List of additional material

@inproceedings{klamka2021_epaper,
author = {Konstantin Klamka and Raimund Dachselt},
title = {Bendable Color ePaper Displays for Novel Wearable Applications and Mobile Visualization},
booktitle = {The 34st Annual ACM Symposium on User Interface Software and Technology Adjunct Proceedings},
year = {2021},
month = {10},
isbn = {978-1-4503-8655-5/21/10},
location = {Virtual Event},
doi = {10.1145/3474349.3480213},
url = {https://doi.org/10.1145/3474349.3480213},
publisher = {ACM},
address = {New York, NY, USA},
keywords = {Color, ACeP, EPD, ePaper, E-Ink, electrophoretic, flexible, bendable, StrapDisplay, wearable, personal InfoVis, HCI, toolkit, mobileVis}
}

List of additional material

@inproceedings{fixme,
author = {Weizhou Luo and Eva Goebel and Patrick Reipschl\"{a}ger and Mats Ole Ellenberg and Raimund Dachselt},
title = {Demonstrating Spatial Exploration and Slicing of Volumetric Medical Data in Augmented Reality with Handheld Devices},
booktitle = {2021 IEEE International Symposium on Mixed and Augmented Reality},
year = {2021},
month = {10},
location = {Bari, Italy}
}

List of additional material

@inproceedings{satkowski2021towards,
author = {Marc Satkowski and Weizhou Luo and Raimund Dachselt},
title = {Towards In-situ Authoring of AR Visualizations with Mobile Devices},
booktitle = {2021 IEEE International Symposium on Mixed and Augmented Reality Adjunct (ISMAR-Adjunct)},
year = {2021},
month = {10},
location = {Bari, Italy},
doi = {10.1109/ISMAR-Adjunct54149.2021.00073},
publisher = {IEEE}
}

@inproceedings{luo2021exploring,
author = {Weizhou Luo and Eva Goebel and Patrick Reipschl\"{a}ger and Mats Ole Ellenberg and Raimund Dachselt},
title = {Exploring and Slicing Volumetric Medical Data in Augmented Reality Using a Spatially-Aware Mobile Device},
booktitle = {2021 IEEE International Symposium on Mixed and Augmented Reality Adjunct (ISMAR-Adjunct)},
year = {2021},
month = {10},
location = {Bari, Italy},
doi = {10.1109/ISMAR-Adjunct54149.2021.00076},
publisher = {IEEE}
}

@inproceedings{10.2312:eurova.2021109,
author = {Britta Pester and Oliver Winke and Carolin Ligges and Raimund Dachselt and Stefan Gumhold},
editor = {Katerina Vrotsou and J\"{u}rgen Bernard},
title = {Immersive 3D Visualization of Multi-Modal Brain Connectivity},
booktitle = {EuroVis Workshop on Visual Analytics (EuroVA)},
year = {2021},
month = {6},
isbn = {978-3-03868-150-2},
numpages = {5},
doi = {10.2312/eurova.20211091},
publisher = {The Eurographics Association}
}

List of additional material

@inproceedings{langner:2021:marvis,
author = {Ricardo Langner and Marc Satkowski and Wolfgang B\"{u}schel and Raimund Dachselt},
title = {MARVIS: Combining Mobile Devices and Augmented Reality for Visual Data Analysis},
booktitle = {Proceedings of the 2021 ACM Conference on Human Factors in Computing Systems},
year = {2021},
month = {5},
isbn = {978-1-4503-8096-6/21/05},
location = {Yokohama, Japan},
numpages = {17},
doi = {10.1145/3411764.3445593},
publisher = {ACM},
address = {New York, NY, USA},
keywords = {data visualization, mobile devices, head-mounted augmented reality, cross-device interaction, data analysis, mobile data visualization, augmented displays, immersive analytics}
}

@article{satkowski2021investigating,
author = {Marc Satkowski and Raimund Dachselt},
title = {Investigating the Impact of Real-World Environments on the Perception of 2D Visualizations in Augmented Reality},
booktitle = {Proceedings of the 2021 ACM Conference on Human Factors in Computing Systems},
year = {2021},
month = {05},
isbn = {978-1-4503-8096-6/21/05},
location = {Yokohama, Japan},
numpages = {14},
doi = {10.1145/3411764.3445330},
url = {https://doi.org/10.1145/3411764.3445330},
publisher = {ACM},
keywords = {User Study, Augmented Reality, Visual Perception, Immersive Analytics, In-Situ Visualization, AR Visualization, Industrial Scenario, Industry 4.0}
}

@inproceedings{luo2021investigating,
author = {Weizhou Luo and Anke Lehmann and Yushan Yang and Raimund Dachselt},
title = {Investigating Document Layout and Placement Strategies for Collaborative Sensemaking in Augmented Reality},
booktitle = {Proceedings of the 2021 CHI Conference Extended Abstracts on Human Factors in Computing Systems},
series = {CHI EA '21},
year = {2021},
month = {5},
isbn = {78-1-4503-8095-9/21/05},
location = {Yokohama, Japan},
numpages = {7},
doi = {10.1145/3411763.3451588},
publisher = {ACM},
address = {New York, NY, USA},
keywords = {user study, spatiality, sensemaking, content organization, grouping, physical environment}
}

@inproceedings{satkowski2021experiences,
author = {Marc Satkowski and Wolfgang B\"{u}schel and Raimund Dachselt},
title = {Experiences with User Studies in Augmented Reality},
booktitle = {CHI 2021 Workshop on Evaluating User Experiences in Mixed Reality},
year = {2021},
month = {05},
location = {Yokohama, Japan},
numpages = {14},
doi = {10.48550/arXiv.2104.03795},
url = {https://arxiv.org/abs/2104.03795},
keywords = {User Study, Augmented Reality}
}

List of additional material

A User-Centered Approach to Gamify the Manual Creation of Training Data for Machine Learning

@article{Alaghbari2021,
author = {Sarah Alaghbari and Annett Mitschick and Gregor Blichmann and Martin Voigt and Raimund Dachselt},
title = {A User-Centered Approach to Gamify the Manual Creation of Training Data for Machine Learning},
journal = {i-com Journal of Interactive Media},
volume = {20},
number = {1},
year = {2021},
month = {4},
pages = {33----48},
numpages = {16},
doi = {doi:10.1515/icom-2020-0030},
url = {https://doi.org/10.1515/icom-2020-0030}
}

List of additional material

Surgical Assistance and Training

@inbook{Speidel2021,
author = {Stefanie Speidel and Sebastian Bodenstedt and Felix von Bechtolsheim and Dominik Rivoir and Isabel Funke and Eva Goebel and Annett Mitschick and Raimund Dachselt and J\"{u}rgen Weitz},
editor = {Frank Fitzek and Shu-Chen Li and Stefanie Speidel and Thorsten Strufe and Meryem Simsek and Martin Reisslein},
title = {Surgical Assistance and Training},
booktitle = {Tactile Internet with Human-in-the-Loop},
year = {2021},
month = {3},
isbn = {9780128213438},
pages = {23--40},
numpages = {25},
url = {https://www.elsevier.com/books/tactile-internet/fitzek/978-0-12-821343-8},
publisher = {Academic Press}
}

List of additional material

Sensors and Actuators

@inbook{Altinsoy2021,
author = {Ercan Altinsoy and Thomas Hulin and Tina Bobbe and Raimund Dachselt and Konstantin Klamka and Jens Krzywinski and Simone Lenk and Lisa-Marie L\"{u}neburg and Sebastian Merchel and Andreas Nocke and Harsimran Singh and Anna Schwendicke and Hans Winger},
editor = {Frank Fitzek and Shu-Chen Li and Stefanie Speidel and Thorsten Strufe and Meryem Simsek and Martin Reisslein},
title = {Sensors and Actuators},
booktitle = {Tactile Internet with Human-in-the-Loop},
year = {2021},
month = {3},
isbn = {9780128213438},
pages = {229--254},
numpages = {25},
doi = {10.1016/B978-0-12-821343-8.00022-8},
url = {https://www.elsevier.com/books/tactile-internet/fitzek/978-0-12-821343-8},
publisher = {Academic Press}
}

List of additional material

@article{Reipschlaeger2021,
author = {Patrick Reipschl\"{a}ger and Tamara Flemisch and Raimund Dachselt},
title = {Personal Augmented Reality for Information Visualization on Large Interactive Displays},
journal = {IEEE Transactions on Visualization and Computer Graphics},
volume = {27},
issue = {2},
year = {2021},
month = {2},
location = {Salt Lake City, UT, USA},
pages = {1182--1192},
numpages = {11},
doi = {10.1109/TVCG.2020.3030460},
publisher = {IEEE},
keywords = {Augmented Reality, Information Visualization, InfoVis, Large Displays, Immersive Analytics, Physical Navigation, Multiple Coordinated Views}
}

List of additional material

@inproceedings{Alaghbari2020,
author = {Sarah Alaghbari and Annett Mitschick and Gregor Blichmann and Martin Voigt and Raimund Dachselt},
title = {Achiever or Explorer? Gamifying the Creation Process of Training Data for Machine Learning},
booktitle = {Mensch und Computer 2020 - Tagungsband},
year = {2020},
month = {9},
doi = {10.1145/3404983.3405519},
url = {https://dl.acm.org/doi/10.1145/3404983.3405519},
keywords = {gamification, object labeling, training data, machine learning}
}

List of additional material

@inproceedings{Fuhrmann2020,
author = {Robert Fuhrmann and Anke Lehmann and Annett Mitschick and Ricardo Langner and Raimund Dachselt},
title = {CoFind: A Browser Plugin for Investigating Co-located Collaborative Web Search},
booktitle = {Mensch und Computer 2020 - Tagungsband},
year = {2020},
month = {9},
pages = {425–429},
numpages = {5},
doi = {10.1145/3404983.3410012},
publisher = {ACM},
address = {New York},
keywords = {collaborative information seeking, awareness, web search}
}

List of additional material

@inproceedings{Klamka2020,
author = {Konstantin Klamka and Tom Horak and Raimund Dachselt},
title = {Watch+Strap: Extending Smartwatches with Interactive StrapDisplays},
booktitle = {Proceedings of the CHI Conference on Human Factors in Computing Systems},
year = {2020},
month = {4},
location = {Honolulu, Hawaii, USA},
pages = {72:1--72:15},
doi = {10.1145/3313831.3376199},
publisher = {ACM}
}

List of additional material

@inproceedings{Klamka2020b,
author = {Konstantin Klamka and Raimund Dachselt and J\"{u}rgen Steimle},
title = {Rapid Iron-On User Interfaces: Hands-on Fabrication of Interactive Textile Prototypes},
booktitle = {Proceedings of the 2020 ACM Conference on Human Factors in Computing Systems},
year = {2020},
month = {4},
location = {Honolulu, Hawaii, USA},
doi = {10.1145/3313831.3376220},
publisher = {ACM}
}

List of additional material

@inproceedings{Klamka2020c,
author = {Konstantin Klamka and Raimund Dachselt and J\"{u}rgen Steimle},
title = {Demonstrating Rapid Iron-On User Interfaces: Hands-on Fabrication of Interactive Textile Prototypes},
booktitle = {Proceedings of the 2020 CHI Conference Extended Abstracts on Human Factors in Computing Systems},
year = {2020},
month = {4},
isbn = {978-1-4503-6819-3/20/04},
location = {Honolulu, Hawaii, USA},
numpages = {4},
doi = {10.1145/3334480.3383139},
publisher = {ACM}
}

List of additional material

@inproceedings{Reipschlaeger2020,
author = {Patrick Reipschl\"{a}ger and Severin Engert and Raimund Dachselt},
title = {Augmented Displays: Seamlessly Extending Interactive Surfaces with Head-Mounted Augmented Reality},
booktitle = {Proceedings of the 2020 CHI Conference Extended Abstracts on Human Factors in Computing Systems},
year = {2020},
month = {4},
isbn = {978-1-4503-6819-3/20/04},
location = {Honolulu, Hawaii, USA},
numpages = {4},
doi = {10.1145/3334480.3383138},
publisher = {ACM},
address = {New York},
keywords = {Augmented Reality, Interactive Surfaces, Augmented Displays, Touch+Pen Interaction, Design, 3D Modeling, Architecture, DesignAR}
}

List of additional material

@inproceedings{peetz2019_bodyhub,
author = {Andreas Peetz and Konstantin Klamka and Raimund Dachselt},
title = {BodyHub: A Reconfigurable Wearable System for Clothing},
booktitle = {The 32nd Annual ACM Symposium on User Interface Software and Technology Adjunct Proceedings},
year = {2019},
month = {10},
isbn = {978-1-4503-6817-9/19/10},
location = {New Orleans, Louisiana, USA},
numpages = {3},
doi = {10.1145/3332167.3357108},
url = {https://doi.org/10.1145/3332167.3357108},
publisher = {ACM},
address = {New York, NY, USA},
keywords = {Wearable, E-Textiles, Smart Fabric, Rapid Prototyping, 3D Printing, Wearable Construction Kits, Modular System}
}

@inproceedings{bueschel2019,
author = {Wolfgang B\"{u}schel and Annett Mitschick and Thomas Meyer and Raimund Dachselt},
title = {Investigating Smartphone-based Pan and Zoom in 3D Data Spaces in Augmented Reality},
booktitle = {Proceedings of the 21st International Conference on Human-Computer Interaction with Mobile Devices and Services},
series = {MobileHCI '19},
year = {2019},
month = {10},
isbn = {9781450368254},
location = {Taipei, Taiwan},
pages = {1--13},
numpages = {13},
doi = {10.1145/3338286.3340113},
url = {https://doi.org/10.1145/3338286.3340113},
publisher = {ACM},
address = {New York, NY, USA},
keywords = {Augmented Reality, 3D Navigation, 3D Data Exploration, Pan \& Zoom, Interaction Techniques, Immersive Visualization}
}

@proceedings{Klamka2019b,
author = {Konstantin Klamka and Patrick Reipschl\"{a}ger and Raimund Dachselt},
title = {CHARM: Cord-based Haptic Augmented Reality Manipulation},
booktitle = {21st International Conference on Human-Computer Interaction - Virtual, Augmented and Mixed Reality. Multimodal Interaction},
series = {Lecture Notes in Computer Science (11574) - Virtual, Augmented and Mixed Reality: Multimodal Interaction},
volume = {9},
year = {2019},
month = {7},
isbn = {978-3-030-21607-8},
location = {Orlando, Florida, USA},
pages = {96--114},
numpages = {19},
doi = {10.1007/978-3-030-21607-8_8},
url = {https://doi.org/10.1007/978-3-030-21607-8_8},
publisher = {Springer International Publishing},
address = {Cham},
keywords = {Augmented Reality; Haptic Feedback; Elastic Input; Cord Input; Radial Menu; 3D Interaction; 3D Transformation; Wearable Computing.}
}

List of additional material