Directly following ITS 2014, we will host an open house event at the Interactive Media Lab Dresden on Thursday morning. The program will consist of two invited scientific talks (see below), a coffee break and a cool demo session including a presentation of display technology.
| | |
| --- | --- |
| Time: | Thursday, November 20th, starting at 09:30 am |
| Location: | Faculty of Computer Science, Noethnitzer Str. 46, Rooms E023, 2042, 2044 |
For more colorful impressions visit our photo gallery!
Program
08:30 am: Departure from the Hilton Hotel to the Interactive Media Lab Dresden
09:30 am: Research talk by Sheelagh Carpendale
10:15 am: Research talk by Miguel Nacenta
11:00 am: Coffee break
11:10 am till around 1 pm: Demo session

Short technical introduction to the huge fully interactive display wall (MultiTaction iWall) by Dr Tommi Ilmonen, CTO, MultiTouch Ltd.
Interactive demos on the wall, exploring both multi-user interaction with different input modalities and multi-device interaction
Several research demos of the Interactive Media Lab, featuring interaction with bimanual multi-touch, gaze & foot input, and Tangible Displays
Talks
Thinking about Interacting with Information in our Everyday Lives
Sheelagh Carpendale, University of Calgary, Canada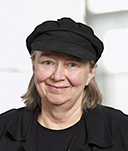 While the catch phrase these days is 'big data' it is often accompanied by the assumption that it is matched with big industry and big science. However, as individuals we are becoming more aware that data is also impinging on our personal lives. Since my over-arching research goal has long been to design, develop, and evaluate interactive visualizations so that they support our everyday practices as we view, represent, manage, and interact with information, I am interested in this impact. I still think that interaction is the key to exploration and manipulation capabilities that can make information comprehension viable. In this talk, I will show how the currently shifting information climate is opening up new research opportunities. I will discuss the interplay between small data and big data considering the potential for empowering ourselves in our everyday lives.
Sheelagh Carpendale is a Professor in Computer Science at the University of Calgary where she holds a Canada Research Chair in Information Visualization and NSERC/AITF/SMART Technologies Industrial Research Chair in Interactive Technologies. Her research contributions have been multiply recognized. She has received the E.W.R. NSERC STEACIE Memorial Fellowship; a BAFTA (British Academy of Film & Television Arts Interactive Awards); an ASTech Innovations in Technology award; and the CHCCS Achievement Award, which is presented periodically to a Canadian researcher who has made a substantial contribution to the fields of computer graphics, visualization, or human-computer interaction. She leads the Innovations in Visualization (InnoVis) research group and initiated the interdisciplinary graduate program in Computational Media Design. Her research on information visualization, large interactive displays, and new media draws on her dual background in Computer Science (BSc. and Ph.D. Simon Fraser University) and Visual Arts (Sheridan College, School of Design and Emily Carr, College of Art). She is an internationally renowned leader in both information visualization and multi-touch tabletop interaction and has received both the IEEE and ACM recognition of service awards.
Playing with perception, representation, and presentation: three ways to subvert current visualization techniques
Miguel Nacenta, University of St. Andrews, Scotland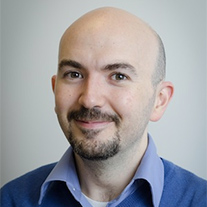 In this talk I present three recent projects that address different aspects of the visualization pipeline. All three projects are examples that show how slightly different approaches to vision and graphics can result in very different ways to look at data and images.
The first project, Gaze-Contingent Depth of Field perception addresses alternative ways of representing 3D information in flat displays. The second project is Transmogrification, a technique that allows us to change the presentation of any graphic, and turn any 2D representation into an arbitrary set of other 2D representations with a very flexible touch interface. Finally, FatFonts are a novel hybrid way to represent numbers, by using a special type of digit that turns numeric tables into visualisations.
Miguel Nacenta is a co-founder of the St Andrews Human-Computer Interaction group (SACHI) and a lecturer in human-computer interaction at the School of Computer Science, University of St Andrews. His main expertise is in input and output techniques for displaying and accessing information. His research encompasses the use of multi-touch and multi-display interfaces, the perceptual aspects of display information perception, and information visualization.
Attending
While the research talks are open to the public, the subsequent demo session is limited to registered attendants. The event, including the coffee break, is free of charge and is sponsored by MultiTouch Ltd.
If you would like to attend, please register here.
Travel Information
The Interactive Media Lab Dresden is located at the Faculty of Computer Science of the Technische Universität Dresden. It can easily be reached by tram from both the Hilton Hotel and the main station: Take the line 3 to Dresden Coschütz and exit at Münchner Platz. From there it is only a short walk up the Georg-Schumann-Straße.
For your convenience we will organize a rendezvous point at the Hilton Hotel and take the tram to the lab. Departure for this option is 08:30 am at the Hilton Hotel. Of course, you are free to instead organize travel yourself as well.